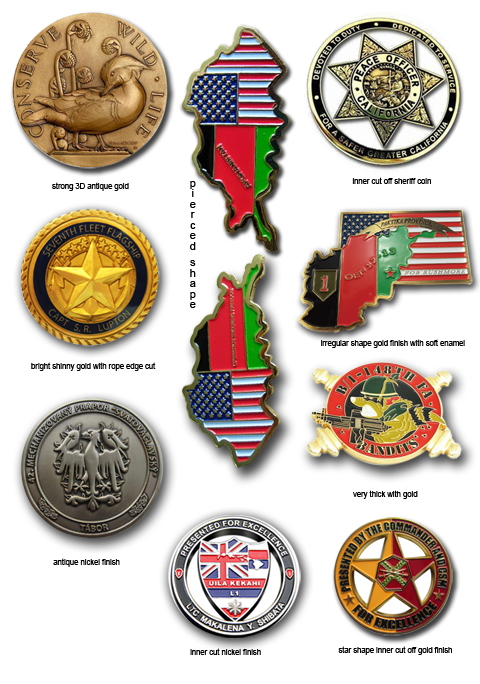 Origin and development of challenge coins
Challenge coins are given to prove membership when challenged and to enhance morale in military battle. Challenge coins are collected by service members, presented by unit commanders in recognition of special achievement. Now, they are a symbol of teamwork, achievement, memorial of special event, member of soldier, club, organization, etc.
Features:
● Zinc alloy cast challenge coins are economical than brass stamp coin, but light in weight. It is more suitable for large quantity production with lower budget.
● Zinc alloy cast can fulfill irregular shape demand, like pierced, inner cut, spin, high raised, etc
Zinc alloy cast available for bigger size and thick.
● Choice of plating: gold, silver, nickel, bronze, antique gold, antique silver, black nickel, antique copper. More plating are provide upon your requests.
● Processing of color filling method: none color filling, soft enamel paint, semi-cloisonne paint, 3D enamel paint, 4C imprint, aluminum printed sticker.
● Available edge cut: flat cut edge, rope cut edge, spur cut edge, oblique line edge, flat wave/bevel cut edge, diamond cross cut edge.
● Optional resin covering on surface.
● Production time: 2 weeks. Rush order available.